"Paris"
Vinelake's Dreamfinder x Normari Ronni Small Queen
d.o.b. 06.05.2012

International Champion, Champion of Russia, Lithuania, Estonia, Latvia, Belarussia, RKF, Poland, Baltic Ch, Baltic Winner'15

Junior Champion of Russia, Belarus, Czechia, Lithuania, Latvia, Estonia, Baltic
Res. European Juior Winner - 2013
European Baby Winner 2012
Crufts qualification
15 x CACIB

HWT-TS (Excellent) T-1

BEST IN SHOW WINNER
at all-breeds International dog show
res. BEST IN SHOW
Multi Group Winner and Placer
BIS Junior-3
2 x Best In Show Puppy, 2 x BIS Puppy - 3
BEST IN SHOW BABY of the Day at EDS 2012
5 x Best In Show Baby total!
Health results:
HD-A ED-0
HSF4 +/+, CEA+/+, PRA +/+, MDR1 -/-, DM+/+
Eyes tested (RSVO - June 2014)
Full dentition, scissors bite
Red factored
Breeder and owner: Adina Kovalenko, kennel Triplemoon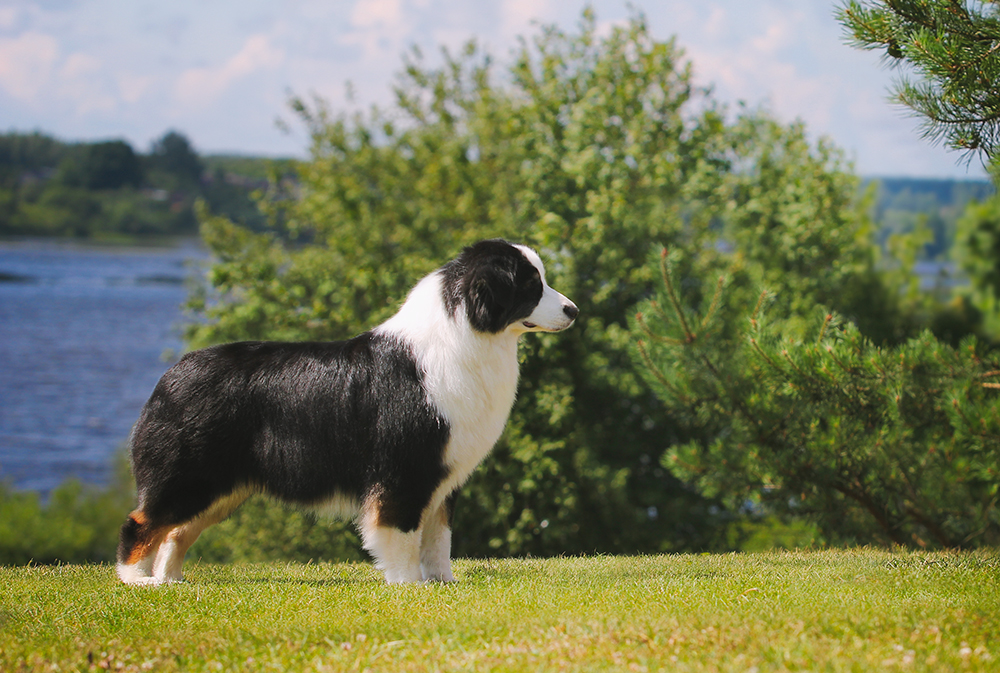 Paris is our beloved little Star. She has charisma and knows her price. She is very self confident, insistent is her desires, brave and daring, able to make amends with charming Aussie smile!

Having strong bones, she is amazingly agile, her movements are easy and balanced. She loves high speed running, she is a real fan of frisbee and dog pullers.

She really knows how to enjoy life, doesn't have any 'complexes', she can creep on her belly - also in shallow waters, and make crazy jumps, for which she was called "monkey" in her puppyhood, and she still is!

Paris is active girl, she has strong mental and bright temperament, never afraid of anything and never stressed. She is easily trained and flexible, has strong defined herding instinct, what together makes her 100% Aussie.

I must mention that Paris was born also for the shows. To show her in the ring is a real pleasure. She needs minimal grooming, having excellent straight coat of good texture and rich and deep color. Besides this she practically doesn't undress and stays in wonderful condition during all year.

She had started her show carreer winning Baby finals one after another, including BIS Baby at EDS'12 being 5 months old little show star - fascinating the judges not just with her structure and movement but also with the dedication of her job in the show ring being just a puppy. And now she still loves a lot to participate in conformation, working easily with any handler.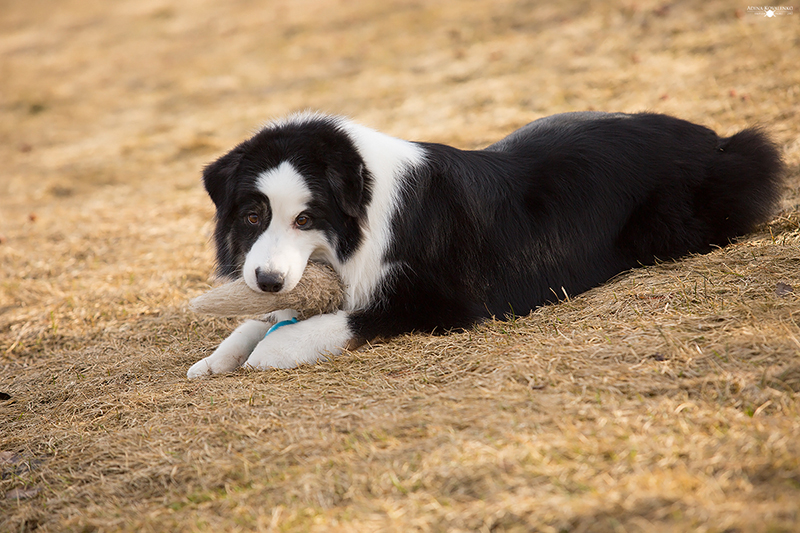 Pedigree:
CH Vinelake's Dreamfinder

CH Vinelake Collinswood Fly Away Home

CH Rosemere Dragonfly At Bayshore

CH Bayshores National Enquirer

CH Rosemere Tidal Wave

Vinelake's Butterfly Kisses

CH Gotham's Windjammer

Darwin's Cosmopoliton

CH Vinelake's All Tax Included

CH Heatherhill My Waterloo

CH Heatherhill Grand Marshal

CH Oprah Winfree of Heatherhill

Vinelake's Canasta

CH Stormridges Hes All That

Darwin Manape Allthatmatters

MULTI CH Normari Ronni Small Queen

RUS CH Briarbrooks Take It To The Max

CH Briarbrooks Silver Medallion

H HOF My Main Man Of Heatherhill

CH Briarbrooks Silver Sequence

CH Briarbrooks Photo Credit

CH HOF Briarbrooks Valedictorian ROM

CH Briarbrooks Paparizzi

RUS, MOL, UKR CH Belgiegirl Van Nattrekja

DUTCH, LUX CH Mooreas Wild Adventure STDS DNA-CP

CAN AM ASCA CH HOF Windogos Wild Wild West DNA-CP

CH Calais Move Over

MULTI CH Zizanie Des Forces Vives

Outlaws Blame It On Rio

Nymphe De L'etoile Des 3 Bergers